Mastering the science of friction behavior
The primary function of a threaded fastener is to ensure a specified clamp load. To that extent, fastener coatings are designed to not only give corrosion protection but also to bring the right assembly characteristics, ensuring that the applied torque brings the needed clamping force and a secured safe joint. These demands are assessed by testing friction in a controlled environment. The specifications define parameters to verify characteristics such as torque or clamping force. Multi-tightening testing can be part of these test specifications, especially for wheel screws testing where it's an important feature.
To secure that the needed clamping force will always be reached, the test specifications define the range of a friction window that on one hand guarantees a minimum clamp load and on the other hand avoids overloading the screw. Most of the OEMs request this against several types of material like e-coat, aluminum and steel, all for the same screw with one coating system only. Topcoats developed by NOF METAL COATINGS GROUP successfully reach all these requirements.
Many fasteners are in use with phosphate & oil since a very long time. Electroplated fasteners can answer torque/tension requirements. However, since zinc is the major metal used for corrosion protection, only zinc flake coatings such as GEOMET® systems are able to provide at the same time a very good and adjustable coefficient of friction together with the highest corrosion protection.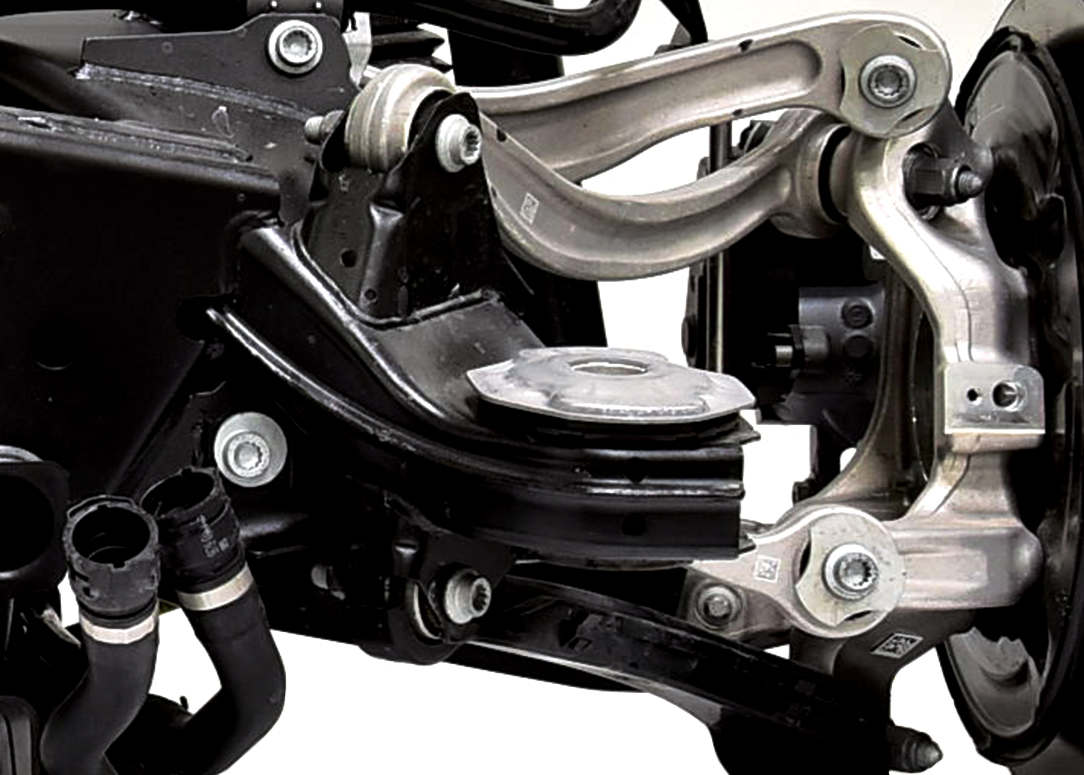 Years of reaching new requirements on friction coefficient behaviour
NOF METAL COATINGS GROUP, the inventor of zinc flake coating systems, is the manufacturer of GEOMET®. This system for corrosion protection and friction control made NOF METAL COATINGS GROUP the leader of zinc flake coatings in the market. With our PLUS® portfolio of topcoats, we have been able to always reach new OEM/TIER1 and serve the market over the years.
Key milestones in the market include:
In 2000, the friction test focused only on one tightening against steel at low speed (<30 rpm) described by general automotive specifications such as VW TL 245 and DIN 946, or DBL 9410 [µ = 0,08-0,14].
In 2005, e-coat was introduced as bearing surface for friction testing. New focus on stick slip (high speed pre-assemble speed at e.g. 200 rpm) and also loosening torque at 150°C were introduced.
In 2013, improved focus on aluminum as bearing surface and also the assembly of steel coated screws in aluminum threaded parts. Multi-tightening (e.g. 5 times) was also requested in the OEM specifications. This was the impulse to develop our new PLUS® VLh, based on the very successful PLUS® VL, which had proven its stability and cost reduction potential in the assembly chain.
NOF METAL COATINGS GROUP confirms its role as the leading coating supplier, in close contact with the market, and its ability of bringing a product that fulfills new demands from OEM/TIER1 customers.
The new topcoat is already successfully in use for series production in truck and automotive industry as well as in other markets such as wind energy. With PLUS® VLh coating technology we proved once again that NOF METAL COATINGS GROUP has been able to fulfill the increasing requirements from reputable OEM's e.g. VW-AUDI (VW 01131) and DAIMLER (MBN 10544).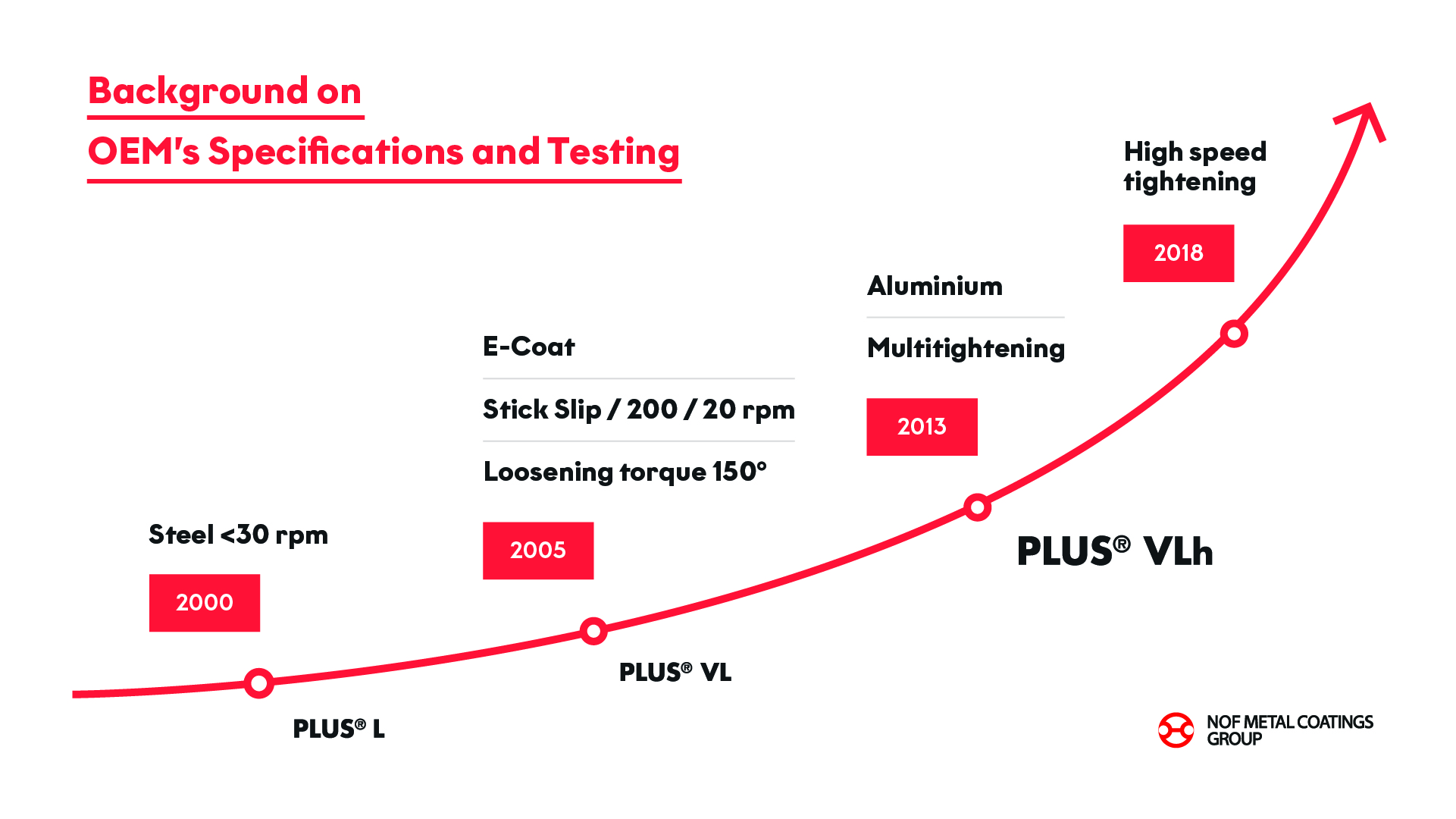 PLUS® VLh, perfect friction control
The development of PLUS® VLh was based on the improvement of the already performing characteristics of our PLUS® VL – in combination with our GEOMET® basecoat – to create a system of high anticorrosion performances with excellent assembly characteristics.
GEOMET® is a chromium-free waterborne anticorrosive coating that can be applied as a thin sacrificial coating layer. This basecoat can be applied as bulk during a dip-spin operation but also on rack or by spray for bigger parts applications. PLUS® VLh topcoat is also waterborne and can be applied using the same coating process.
The development of PLUS® VLh integrated the demand for stable friction coefficient on different bearing surfaces (steel, aluminum, e-coat) but also anticipated the request regarding high speed tightening (till 700 rpm for M6). The PLUS® VLh chemical contains binders, lubricants, and waxes. Each raw material was selected and adjusted considering its influence on friction properties of the film.
The combination of GEOMET® and PLUS® VLh not only provides corrosion performance and controlled friction properties, but also improves abrasion resistance and thermal resistance to the coated part's surface. PLUS® VLh also exhibits very reliable performances whatever the bolt geometry is. A statistical analysis on different diameters demonstrates the good COF stability which stays in the same range for all bolts' sizes.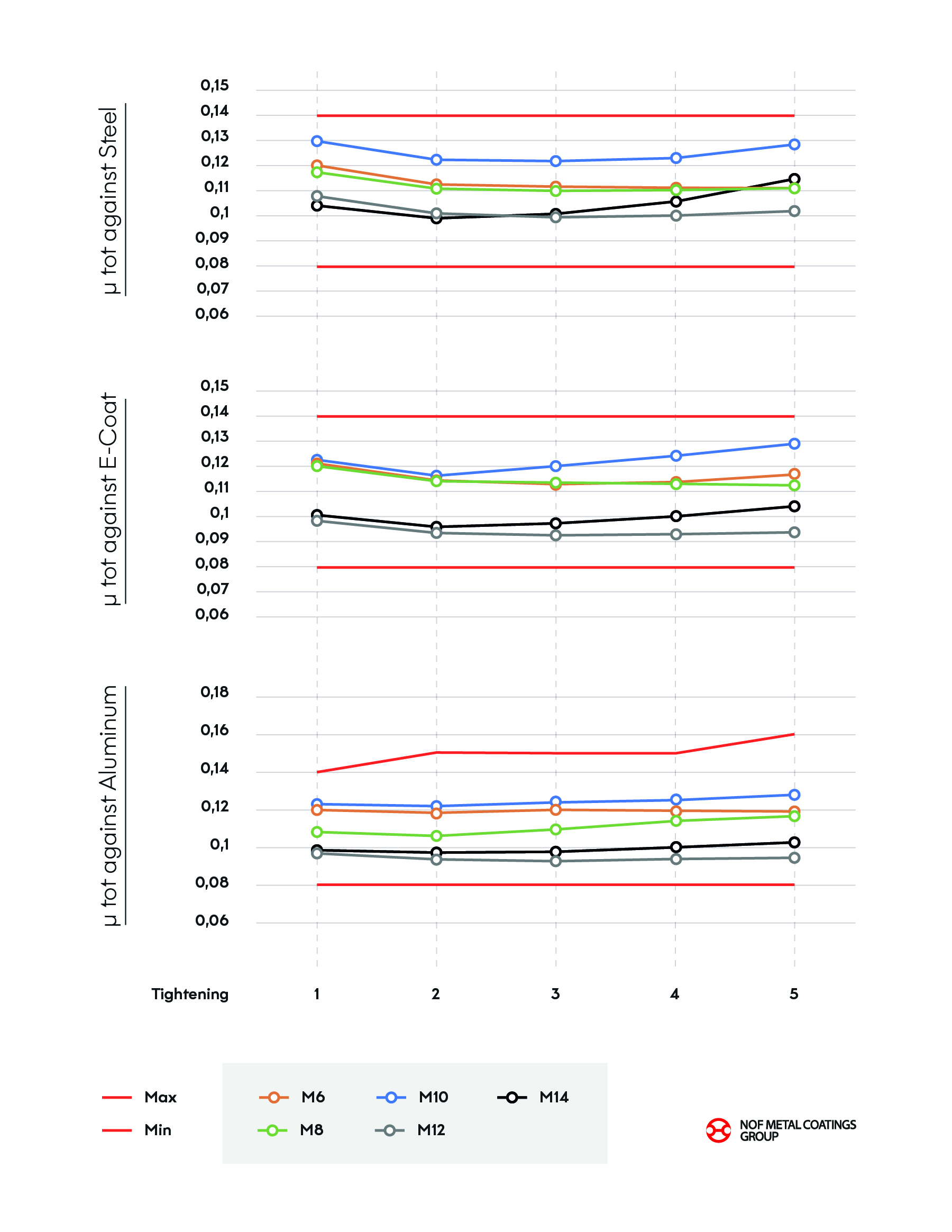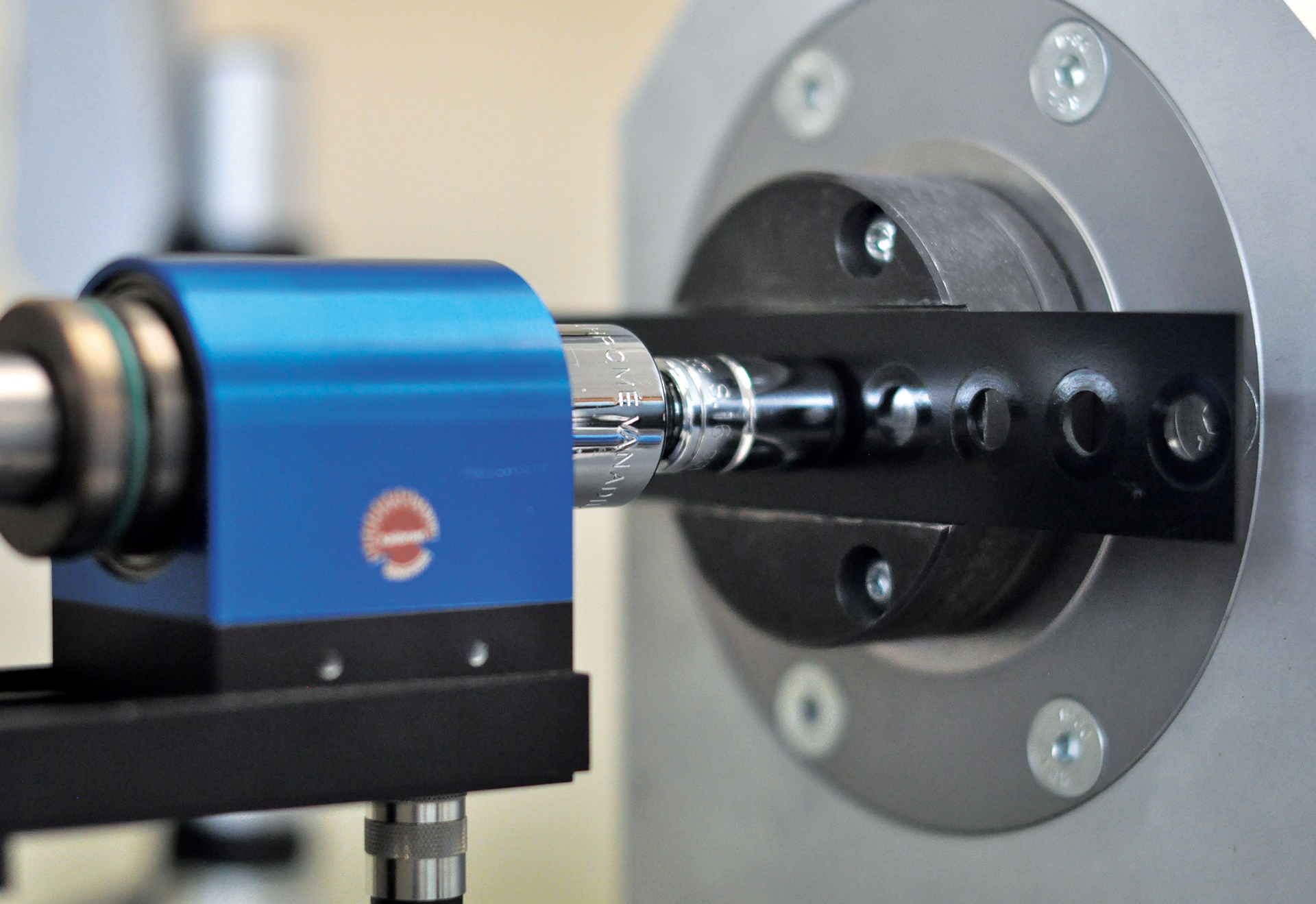 PLUS® VLh high level standard
The combination of GEOMET® and PLUS® VLh topcoat is a very robust coating system helping to solve almost all kinds of assembly issues that could generate high costs in the assembly line vs. the individual low cost of a single fastener.
The successful introduction and the commercial success of PLUS® VLh confirm the very high skill level of the NOF METAL COATINGS GROUP teams and its GEOMET® licensee applicators in the field of anticorrosion and lubricated coatings for fasteners.
NOF METAL COATINGS GROUP produces and sells GEOMET® and PLUS® VLh all over the world. More than 580,000 tons of screws have been coated with PLUS® VLh since 2013. Its high level of performance enables it to be specified for other types of industries such as wind energy or trucks, on parts such as U-bolts and wheel bolts, where safety must be guaranteed. In addition to standard grey/silver, the system with PLUS® VLh is also available in black colour.
NOF METAL COATINGS GROUP continues to work on the operational excellence of its solutions – whether it be from a product or application process point of view – to further establish its technical robustness and commercial success.
Client testimonials:
"With PLUS® VLh we are able to solve almost all application challenges. Especially with the high demands in the automotive industry with numerous fasteners in all different shapes and sizes like long parts (torsion effect). But also, in combination with coated surface like e-coat, it shows high performance consistency in getting the right pre-load (no stick slip effects anymore). Additional lubrication in severe cases belong almost all to the past."
Pascal Bisschops
Senior Application Engineer – NEDSCHROEF
Schraubfachtechniker (DSV)®
"The performance of the PLUS® VLh topcoat supersedes that of the well-known PLUS® VL. Especially the low sensitivity for stick-slip at higher tightening speeds on various materials and E-coats is a significant improvement. This combined with the stable coefficient of friction makes it a perfect topcoat for a variety of industries."
Tim Koopman
Manager Technology – FABORY
Schraubfachingenieur (DSV)®